Several months ago, Carson City's last A&W restaurant closed for business. Pete Livermore and the Livermore family had owned an A&W franchise in Carson for nearly 40 years. Originally the restaurant was located at the corner of Carson and 10th Streets, and they also had a second store along Hwy 50 in the Warehouse Market (later Scolari's) shopping center.
The 10th & Carson store was always a popular hangout during Hot August Nights, when all the classic hot rods would rumble through town and pull up to the A&W parking lot. But in 1995 they sold that building and built a brand new restaurant on Clearview Street, right across from Wal*Mart and Albertson's. The old building stuck around as an Enterprise car rental for a few years, but eventually it was demolished to make way for Red's Old 395 Grill and the Copper Point Plaza.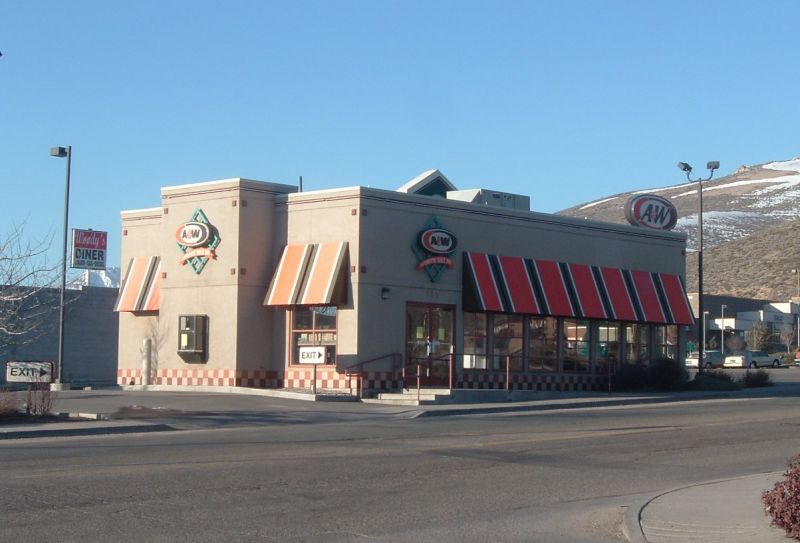 The "new" A&W on Clearview Street. Taken on February 26, 2005, a few days after it closed for good.
In 2001 they closed the Hwy 50 store, which soon became a Jimboy's Tacos. And by February of 2005 the Livermore family was ready to get out of the fast food business all together. But since there were no buyers interested in keeping an A&W franchise in Carson, Pete Livermore sold the Clearview location to the city. Their plan was to demolish the building to allow the street to be widened.
The old building has sat vacant for several months, but this week the city finally brought out the bulldozers and got down to the dirty business of demolition. It was done pretty quick; they started on Monday, and by Tuesday afternoon there was nothing left but a small pile of rubble.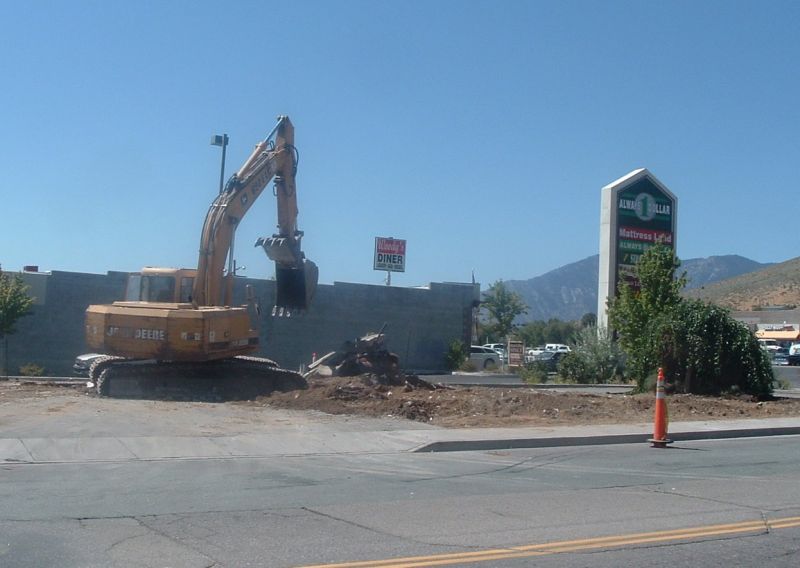 The actual street widening is scheduled to start "in the spring", which in road-construction-speak means "late June". Good bye, A&W. I'll miss your cream soda. But, then, I can still get it Wal*Mart, so I guess I'm not really missing out on anything after all.