After months of construction, the first part of the downtown Carson City rebirth project is open. The grand opening for the Bob McFadden Plaza was held this morning, and a celebration, with craft booths and a concert, is happening all day. This public plaza replaces Third Street between Carson and Curry, ripping out the old asphalt and parking spaces for concrete, planters, a stage and a splash pad. It takes a part of town that has been slowly improving over the last 20 years and makes it into a true heart of downtown, a public area that is going to be used for decades to come.
The plaza is named after Bob McFadden, who first remodeled the St. Charles Hotel in the 1990s, kicking off this Third Street revitalization. We've been watching the construction of this plaza for most of the year now, so let's take a tour and see what the finished product looks like.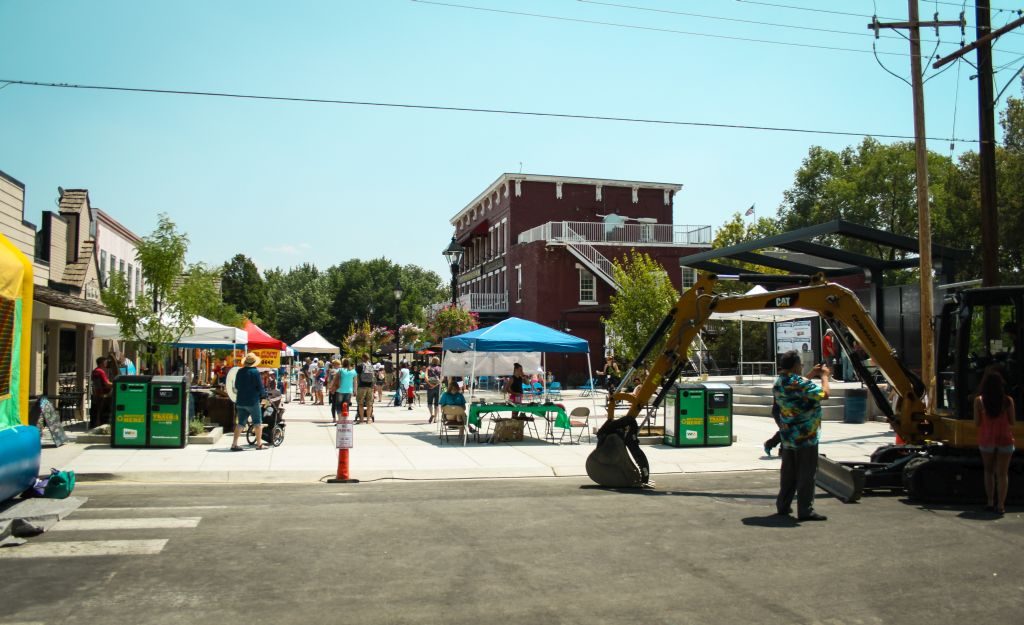 Where once there was a street, now there is an open air area for the public to gather.
Recycle bins and compacting trash cans have been installed by Waste Management.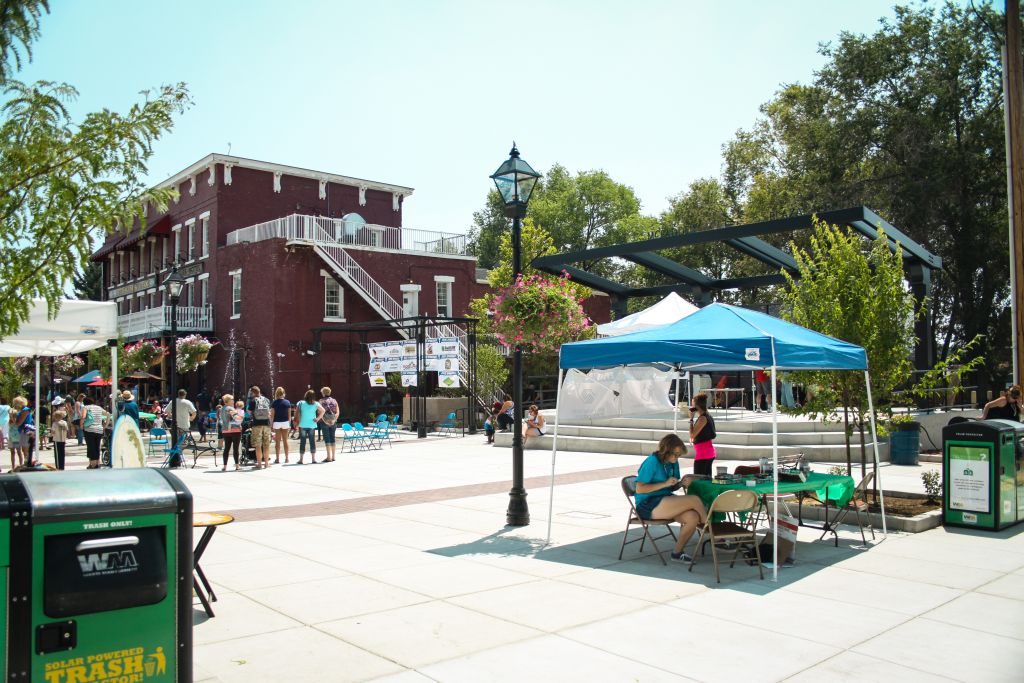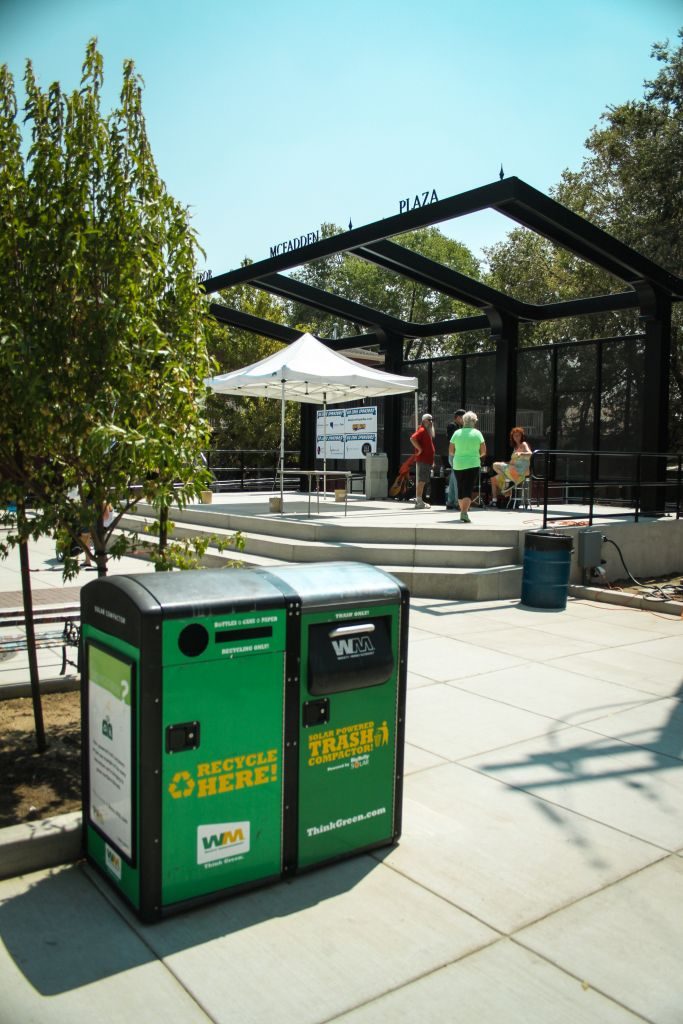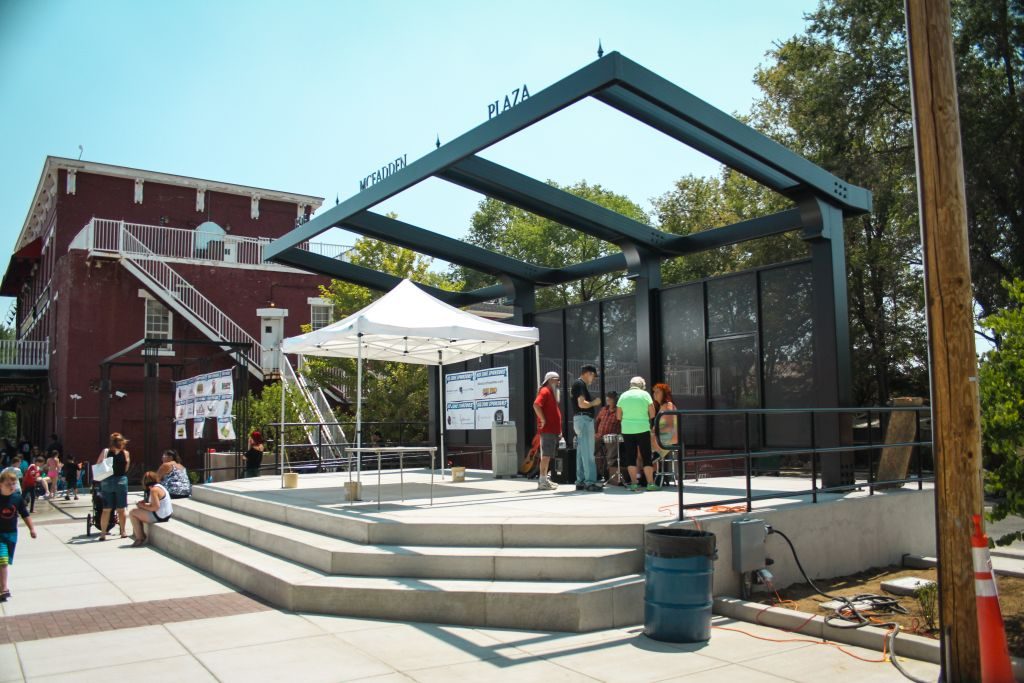 The new stage includes a metal canopy and steps leading up the front of the stage, as well as a wheelchair/equipment ramp in the back.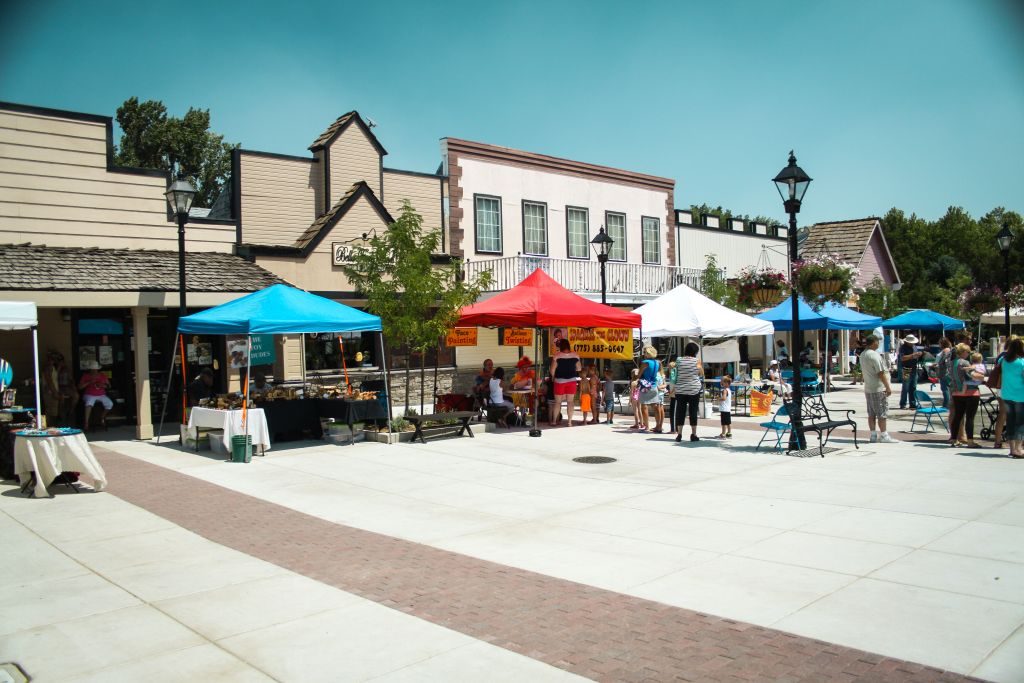 A wide expanse of brick and concrete replaces the old street, with new light poles and landscaping lining the edges.
The splash pad in the shadow of the St. Charles provides kids (and some adults) with a place to play and cool off in the summer sun. When not in use, the fountain fades into the concrete and this area is just another part of the plaza
New siding has been put up on the buildings on the north side of the plaza. The metal shingles apparently were rescued from Stewart Indian School and are over 100 years old.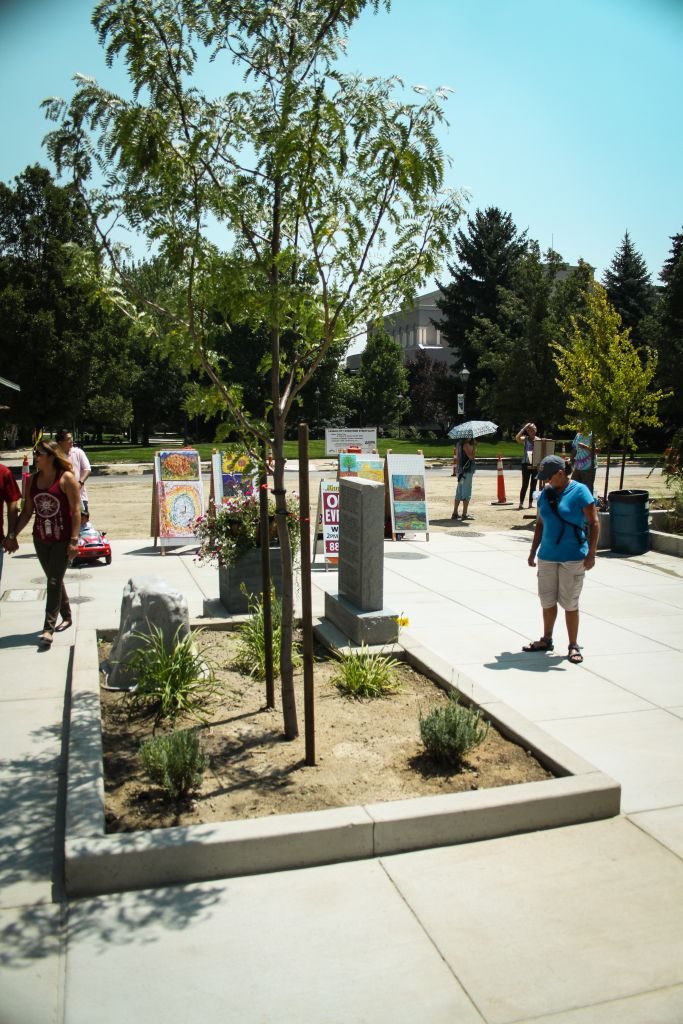 Several new planters provide landscaping and shade along the edge of the plaza.
The Pony Express monument has been relocated to this planter in front of Mom and Pops, from its old location on the street corner nearby.
The Firkin and Fox outdoor patio has been rebuilt and integrated as part of the plaza, while still remaining separate through the use of landscaping and a low wall.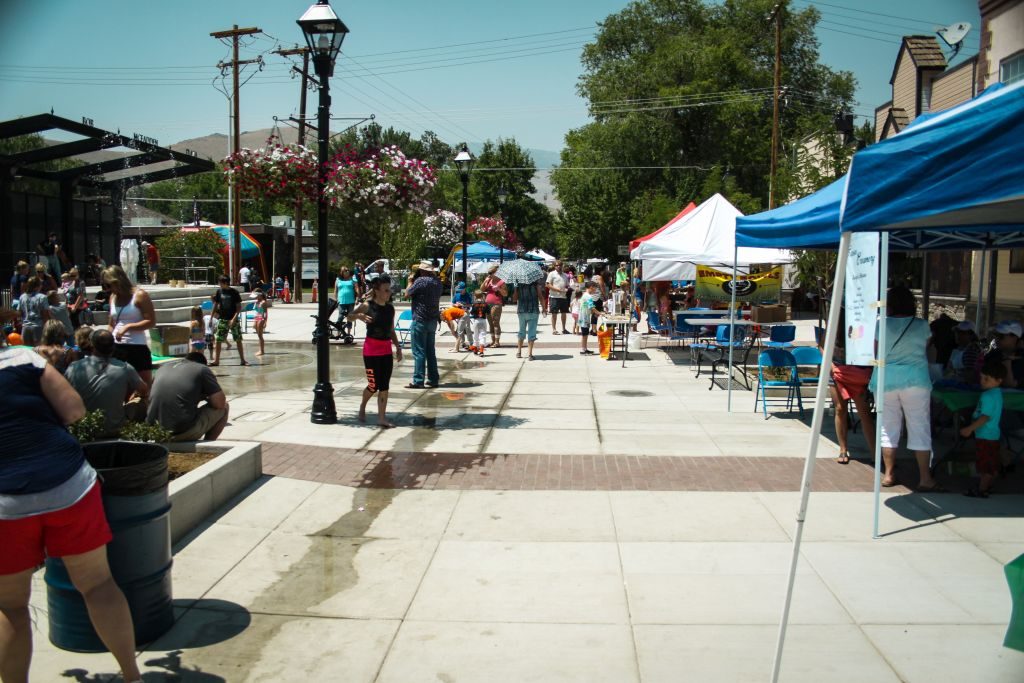 Looks like the splash pad overflows a little, into the center of the plaza. But the sidewalk here was designed with drainage in mind.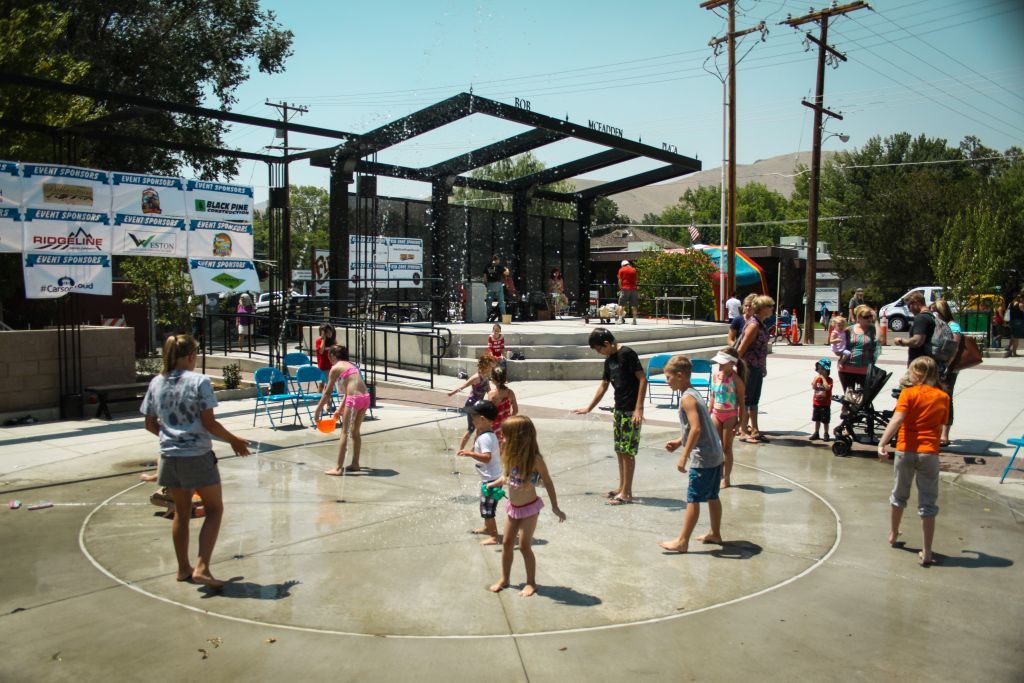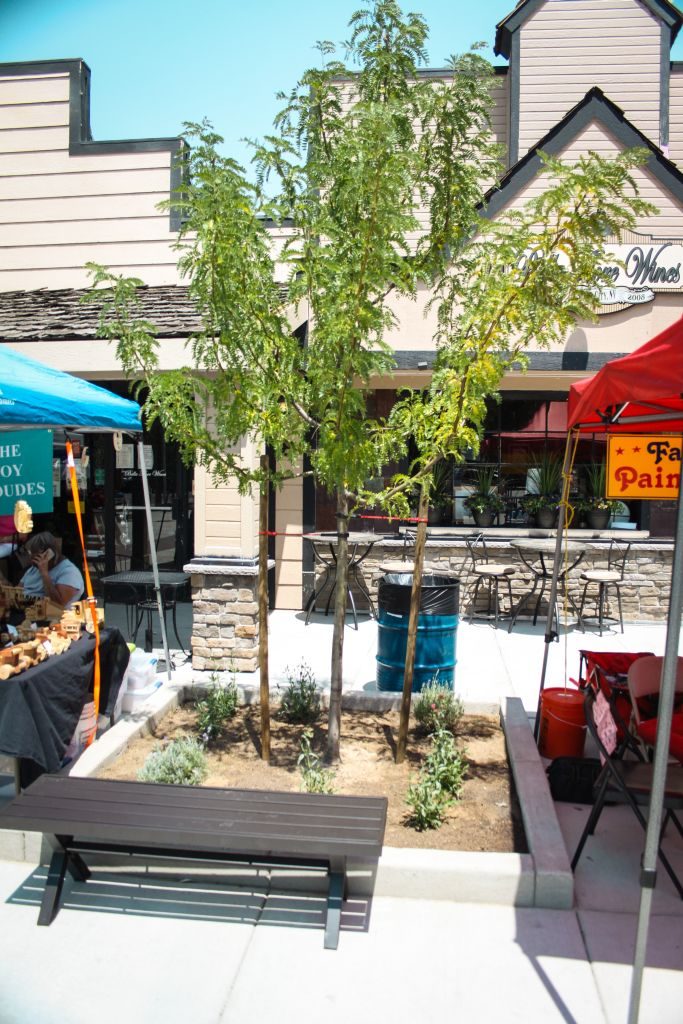 I think this is an excellent addition to downtown Carson City, and it's just a small hint of what awaits us along the rest of the Carson Street corridor when the remaining construction is finished this fall. Everything is turning out as great as I imagined it would. It's exciting to see these changes finally happening after 10+ years of planning!