A new hiking trail has opened up in the Carson Valley, along the banks of the Carson River. The Bently-Kirman Ranch is a piece of land in the north valley where the river slowly meanders through the sagebrush. It is located east of Hwy 395, past Stephanie Way and the Cradlebaugh Bridge. This land was never developed as cultivated grassland like much of the rest of the valley was, so it has remained largely undisturbed. Centuries of flooding in this area has left a wetlands, riddled with streams and oxbows where the river is continually changing course. Until now this land has been off limits, but a partnership between Bently Agrowdynamics, the Nature Conservancy, and the Carson Valley Trails Association has led to a part of the wetlands being opened to the public.
Nearly four miles of hiking trail has been constructed through the ranch, starting at the parking lot at the southern edge and following the river north. These are strictly hiking trails, and there are no dogs, no bicycles, no horses, and no motorized vehicles allowed. This is still a working cattle ranch after all. But it's a good way to kill an afternoon and get some fresh air walking down by the river. Much of the trail stays inland by the sagebrush, but a couple of stretches do follow the river's bank, and there are a few sandy beaches that can be reached by the trail.
This is probably the perfect time to get out there, since the temperatures aren't too hot yet and the river is just about at its peak flow. If you want to go, you take Hwy 395 to the Stephanie Way light, and travel up Stephanie to Heybourne Road (just past the church). Turn left on Heybourne, then make another left to get to the trailhead. I haven't been out there yet, but I'm sure I'll make it some time this month and bring back pictures and a report of the area.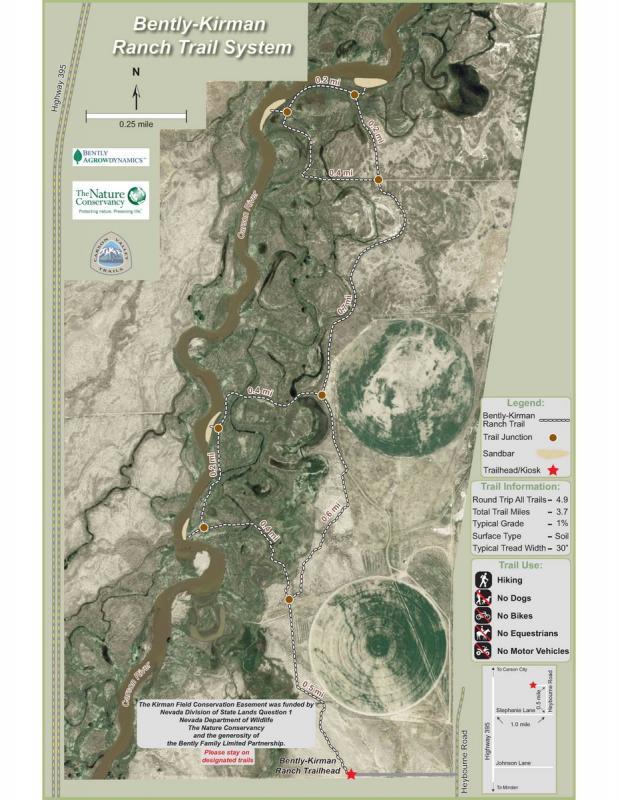 A trail map can be found here.
The Carson Valley Trails Association has several other hikes you can take around the valley.