Tickets have now gone on sale for the 2010 runs of the reconstructed Virginia and Truckee Railroad. The trial runs last year proved to be very popular, with most of the Saturday runs selling out for 12 weeks straight. So this year they're bumping up the number of runs, starting on Memorial Day weekend and going until Nevada Day, 23 weekends in all. And they're expanding to also run the steam train on Sundays, for a total of 46 days this year. And, if that isn't enough, they'll also be running the diesel train between Carson and Virginia on Thursdays and Fridays. So Eastgate Depot is going to be a hopping place, with trains running through there four days out of the week this summer.
They're going to be keeping the same schedule as they had last year. All of the Carson-to-Virginia runs will leave at 10 am and return around 4. Though because they're running on back-to-back days the deadheads will be a little different. The steam train will deadhead down to Carson on Saturday morning at 8 am, then deadhead back Sunday night at 5:30. The locomotive will spend Saturday night at Eastgate Depot so it will ready for the next morning's run. And the diesel will deadhead Thursday morning and Friday night.
And with the addition of the diesel runs, a whole new tier of pricing has been introduced. The round-trip steam runs are keeping the same price as they had last year, $48 for adults, $40 for seniors and $30 for kids. That $48 they charged last year was said to be a trial price, and I guess selling out all the tickets proved to them that it's not too high. The one-way steam deadheads will be slightly lower, at $29/$25/$20. The diesel round-trip tickets will be that same price, $29/$25/$20, and the one-way diesel trip will be your cheapest option, at $17/$15/$12. Also keep in mind that the V&T will still be running trains between Virginia City and Gold Hill like they have for decades, and those will be priced around $10 for a round trip. I'm not sure how the Carson City excursions will affect the schedule of the Gold Hill trips, but I guess when the diesel is in Carson the steam will be in Virginia City, and vice versa.
So this year will really be the moment of truth for the reconstructed V&T. Last year there was a high level of excitement because it was the inaugural season, and all the people who had been waiting for decades to ride the train all bought tickets at once. All over town now I see bumper stickers that say "I rode the V&T". The price of $48 seemed really high to some, but all the runs sold out so they thought they were justified in charging that much. Now that price has returned this year, and we'll see if there is still enough interest to keep the runs sold out this summer, or if all the people who were interested in riding the railroad for that price already rode last year. It might prove that the price is just right, and the train stays popular all year because demand is high enough. Maybe all the people who wanted to ride last year didn't, because the tickets sold out. That will lead to a strong first part of the season as everyone finally gets to buy their tickets. The big question mark hanging in the air is, how many of those people are there? And how many people who paid $48 to ride last year will decide to pay it again, and ride again this year? That percentage is probably low. Although the success of this train isn't going to come from locals, this train is meant to be a draw that pulls people in from all over the country. The V&T is meant to make Western Nevada a destination, and bring people here that wouldn't have come here otherwise. And how effective that will be is something we can't predict now; all we can do is sit back and watch how well these tickets sell.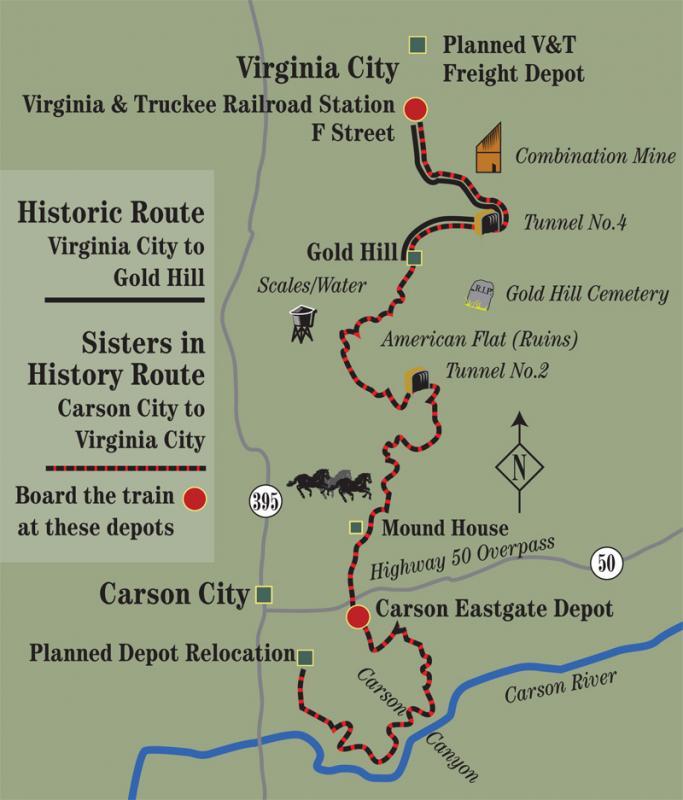 Until then, railfans can look for the train crossing the Hwy 50 bridge several times a week. The first diesel excursion is on May 27th, and May 29th marks the return of steam to Eastgate Station. Should be a busy summer out there in east Carson!