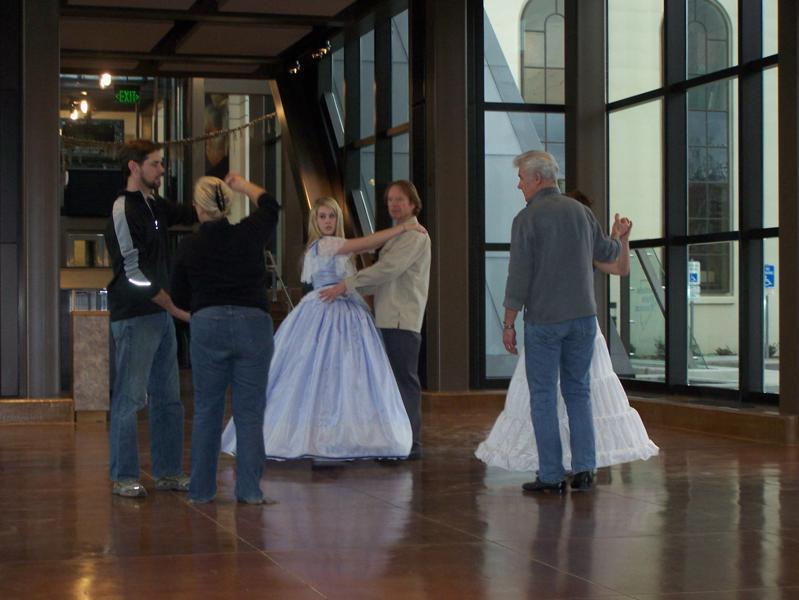 Be transported back in time at Oh, My Bonnets and Bustles! Fashion Show and Dance at the Nevada State Museum Sunday, February 21, 2010 from 3:00 to 6:00 p.m. Friends of the Nevada State Museum organized and planned the event in partnership with the Carson City Historical Society (CCHS).
Tickets are $20 and proceeds benefit Friends of the Nevada State Museum and CCHS. Tickets are available at the Nevada State Museum Store and also at White Cat Antiques on the corner of Curry and Robinson. Contact Tina Davis-Hersey at 671-2364 or treed65t@yahoo.com for further information.
The Victorian Fashion Show and Dance highlights women's fashions from the 1860s through the 1890s, roughly the same time period that Queen Victoria reigned in Britain. The fashions for the event come from the collection of Tina Davis-Hersey and Carolyn Davis. The collection includes original outfits as well as costumes created by the mother-daughter duo from historic patterns. The show follows a quartet of vignettes of daily Victorian life, from dressing in the morning to dancing in the evening. A reception with a raffle and Victorian-era ballroom dancing culminates the evening.
Music is provided by two groups: The Consort Canzona will play the harpsichord and recorders for the daytime scenes; in the "ballroom," a quartet of musicians from the Carson City Symphony will play period waltzes and polkas. Guests are encouraged to dress in period costume for the event.
Paulette Grune, a well-known presenter on the morals, styles, and manners of the Victorian period, will be on hand to perform her show of Victorian underpinnings. Paulette, an excellent seamstress and researcher of historic fashion, does a wonderful job of explaining exactly what went underneath those big skirts-and why all the layers were necessary. Mourning attire is also on display, and a description of mourning etiquette and fashion accompanies the scene. Several other outfits for daytime or evening wear will be modeled as well.
The Friends of the Nevada State Museum, a private, non-profit organization, supports the museum through volunteer assistance, fundraising, and advocacy. Funds raised will support education programs and exhibits at the museum. The Carson City Historical Society's mission is to preserve the unique history and Old West cultural heritage of Carson City and northern Nevada.