Gigi Elmes on Flickr has posted this picture of an uncovered billboard in upstate New York. It seems that at one time there was a "Carson City and Indian Village" in the Catskills. It probably was some kind of schlocky Old West town where you overpaid to watch a gunfight and drink sarsaparilla in the saloon. The Catskills were full of these places, as evidenced by this 1993 article in the New York Times. Clyde Peeling's Reptiland, House of Frankenstein Wax Museum, Secret Caverns, Catskill Game Farm, and the ubiquitous Mystery Spot.
Carson City undoubtedly is closed now, since I can find very little about it on the web. But I did find this postcard of the place, presumably in its prime. A grim row of buildings in a dusty clearing in the forest, a couple of buckaroos and a horse. Not really selling the place very well.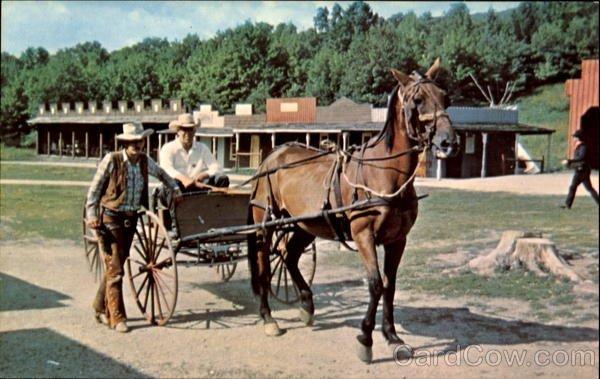 Update: I tracked down a little more info, but not much. This article says Carson City was owned by Arthur Gillette, who sold it in 1979. It was closed in "the mid- or late-1990s".
I found a description of Carson City in the book "Let's Take The Kids!".
This is a place that most kids-especially boys-will absolutely adore. Carson City is one of the largest reproductions of an old Western town in the country, and a day here is packed with action and fun. Skilled actors and actresses reenact a full slate of jailbreaks, gunfights, bank robberies, and saloon fights. There are also cancan dancers, roping demonstrations, trick horse riding, magic shows, and Native American dancing. Take a stagecoach or a train ride. but watch out for robbers (yes, that masked man was Jesse James!). The actors are all in period costume, and the settings remind you of an old "Gunrsmoke" set. There's noise and action aplenty, and even a carriage museum with sleighs and horse-drawn vehicles on display. Stop in at the gift shop, where Western goods are sold, or have a hot dog at the Chuckwagon snackbar (you may bring a picnic lunch or enjoy a meal at the restaurant next door). Parents should note that they can make arrangements for birthday parties or other special events at Carson City. And although the entrance fee may seem rather steep, remember that the continual entertainment and live shows will keep the kids amused all day. Please note: Parents who are concerned about exposing their children to guns and gunfights may not enjoy this site.
The site was sold at some point for $750,000. It is now being developed into a residential neighborhood called "Carson City Homes". Searching for "Carson City, NY" on Google Maps brings up the approximate location.
Update 2: User CV2200A put up this video of an Indian dance performance at Carson City.
Update 3: Two videos of the gunfighting, from YouTube user Francise05.
Update 4, 2017:
It's been many years since I wrote this article and it has gotten a lot of great comments over the years from many people who remember Carson City, both as guests and as employees. The internet has also gotten larger in that time, and a few other articles have been written looking back at Carson City. The site never got developed into homes, but it was still for sale recently and it looks like many of the original buildings still stand.
2017 Real Estate Listing (with recent photos)
Abandoned Catskills: The Carson City and Indian Village
Carson City for Sale: The Wild West of Upstate New York
Abandoned Hudson Valley Facebook Page
Carson City & Indian Village: Abandoned Theme Park
A Replica of a Real Wild West Town Where the East meets the West
More Flickr Photos
Wikipedia page