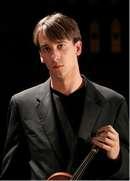 The Carson City Symphony and Raven Ridge Media will present an intimate, elegant evening of Music and Dessert on Friday, October 19, 7:30 p.m., at a private home in Jacks Valley, south of Carson City. The recital will introduce virtuoso violinist Andrew Sords to a select group of music lovers in the Carson City area.
Accompanied by award-winning Reno pianist Rachel Ing, Sords will play a program of favorite pieces, from the dazzling to the sublime. The program includes Kreisler's "Leibesleid," the "Allegro" from the Bach's Sonata No. 2, Chopin's "Nocturne" in C-sharp minor, Rachmaninoff's "Vocalise," and Monti's "Czardas."
General admission is $20; Symphony Assoc. members $10; and children age 12 and under $5. Tickets are limited�get yours early at the Brewery Arts Center, 449 W. King St., Carson City, online at ActivityTickets.com, or reserve at 775-883-4154.