I spent a nice little weekend offline, putting together two birthday parties and a family outing for our son Sam. But of course the Internet never sleeps, even when I unhook from it, so here's some of the stuff I missed while I was gone.
* An awesome time-lapse movie of the Reno Balloon Race.
* For decades in Minden the fire siren blew every day at noon and 6pm. No one quite knew why, it was just a way to set your clocks; part of the small-town charm. But now we've found out the real reason behind it: it used to blow at 6pm as an "All Indians out of town" warning signal.
Tribe members connect the 6 p.m. siren with a Douglas County ordinance enacted July 7, 1908, requiring all Indians to be out of Gardnerville by sunset. The original ordinance said that any Indians remaining in Gardnerville, except those employed as servants, would be declared a public nuisance after sunset.
The county has turned it off until they can figure out something a little less racist. Minden residents say whatever meaning it used to have is gone now, and they want it back on.
* Engineers have finally determined that Tunnel #2, on the V&T right-of-way, will be able to be reopened and support train traffic. This will be a big highlight of the trip, one of two tunnels you'll pass through on your way to VC.
* From the It's About Time department: The Wiccan soldier killed in Iraq is going to get a pentacle on his headstone after all. The State stepped in where the VA wouldn't and approved the symbol. I think the whole idea of "approved emblems of religious beliefs" is patently nonsense anyway. That's not a call any government agency should be making, saying some religions are "approved" while others are not. If you're going to take one, you've got to take them all.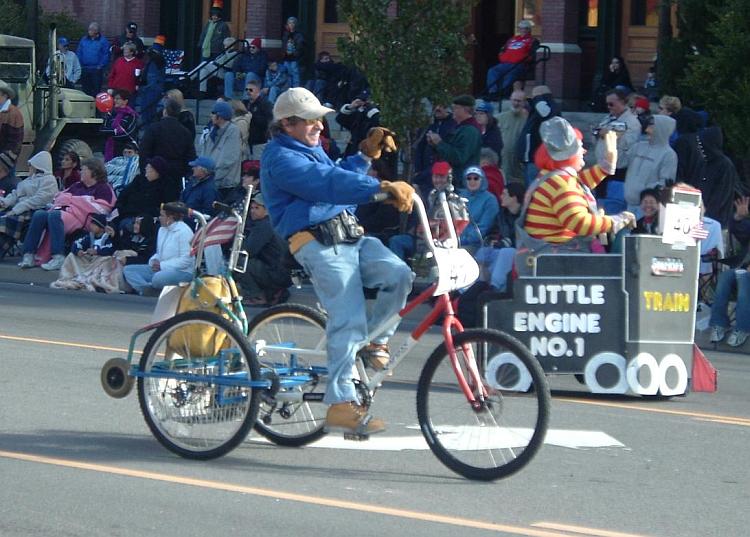 * Glenn Lucky has decided to put on a strongman specatcle for the town next weekend. If you've lived in Carson City for any time at all, you've seen Glenn riding his three-wheel bicycle around, either by itself or towing his trailer full of advertising signs. Now this 53-year-old cerebral palsy sufferer is going to hitch something a little bit larger up to his bike: an 18-wheeler. He's hoping to be able to pull it across the parking lot, but either way he just wants the people of Carson to have some excitement. He's going to be doing it at the Bully's Parking lot (College Parkway and N. Carson) at noon on Sat, Sep 24th. We've all gotta stop by and cheer him on.
* Several state agencies are desperately trying to get out of the Kinkead Building, but they can't until new offices are ready for them. And those new offices have been delayed again, this time until November. Meanwhile employees have to put up with sloping floors, leaking windows, falling concrete, and earthquake unsoundness. Gotta love 70s architecture.