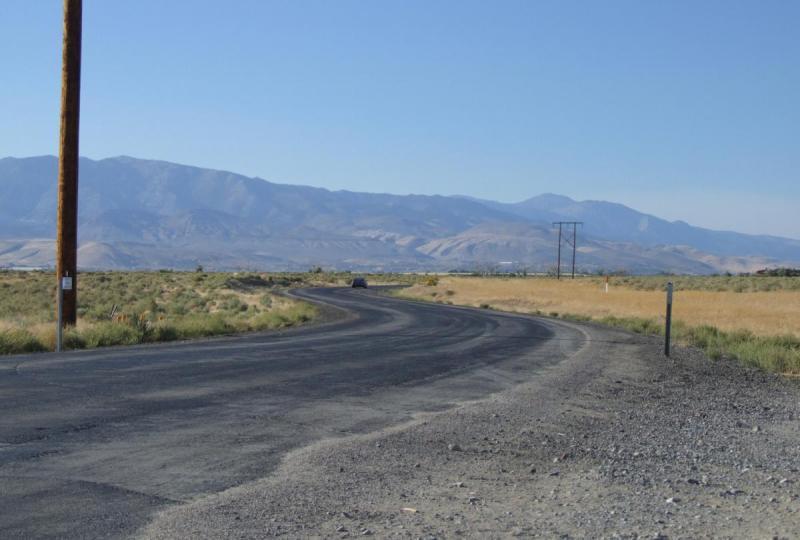 All I can say about this item is finally. Over the last month Douglas County workers have been working on paving the last segment of East Valley Road. Two weeks ago it was finished, so now we've got an unbroken ribbon of asphalt stretching all the way from Johnson Lane into Gardnerville.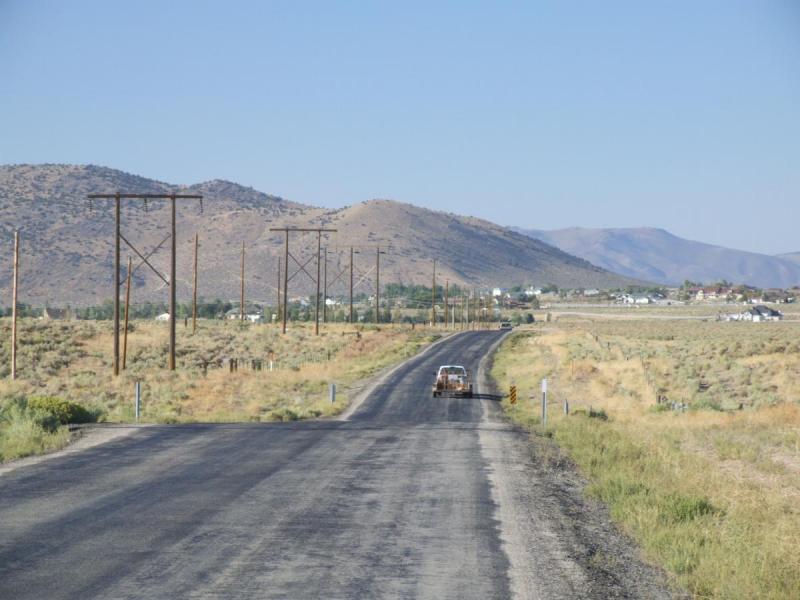 East Valley Road has always been one of the secrets of us long-time valley dwellers. Most folks will take Hwy 395 to get from the north to the south, because it's paved, it's four lanes wide, and it's what everybody else takes. But up at the top of Johnson Lane you find that there's a secret way to bypass all that highway traffic. East Valley Road starts out as a residential street in the Johnson Lane area, connecting Stephanie to Johnson. The route then jogs a bit over to Fremont Street, and at the end of Fremont you pick up East Valley again. This road then runs in a straight shot all the way to Fish Springs Road, and then with another little jog you can get to Pinenut Road. This means that, if you travel East Valley all the way, you can not only avoid the highway traffic but also entirely get around the towns of Minden and Gardnerville. It's the closest thing Douglas County has to a bypass road.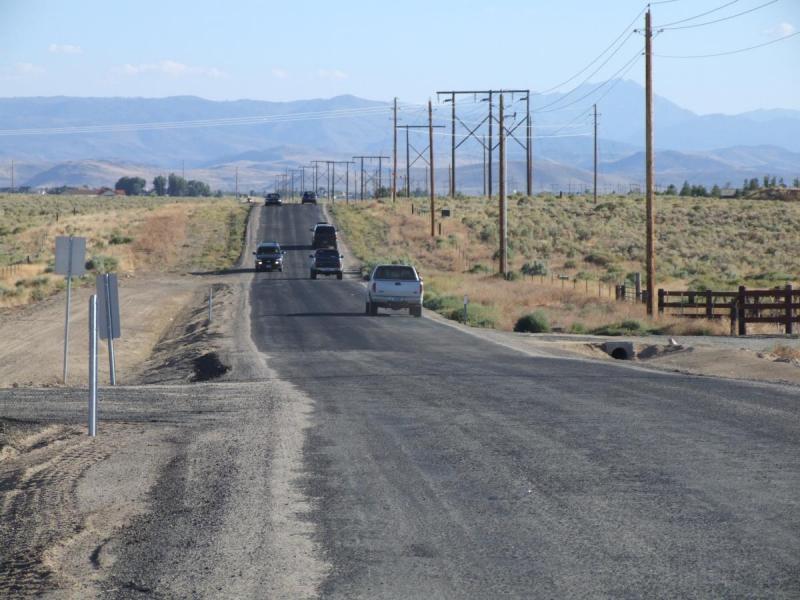 The problem is, when I started driving the road over a decade ago, it was dirt all the way. And it wasn't a smoothly graded dirt road. No, it was aggressive, full of potholes, mudpits, and washboards. In a way, it kind of ensured that only the most adventurous among us ever drove on it, because it took a beating on both your car and your stomach. Not to mention that it was impassible to all but the hardiest 4WD vehicles during the winter and spring. All of this left East Valley Road as a handy shortcut, but one that you only took if it was really necessary. And dry.

The old section along the telephone poles was smoothed down and abandoned. The new alignment runs to the left.
But over the last several years I had noticed changes along East Valley. It started at the south end of the road, near Fish Springs. One time when I took the trip, part of the road was actually paved! It was quite a shock, but it didn't help me much since I had to drive over several miles of dirt to get there. But then it seemed like each time I took to the road, another piece had been paved. Some of it was good quality paving work, with brand new asphalt and painted stripes and everything. Other parts were paved with "grindings", basically the leftover bits you get when you tear up an old road. But it didn't matter, because even the worst grindings are still better than dirt.
Still, though, the worst part of the road, the part that butted right up to Fremont Street at the north, was left untouched. It seemed like it was little more than a utility access road that ran along a line of telephone poles, and sometimes the potholes here could swallow up the entire width of the roadway. I always hoped the county would get off their butts and pave this last section, but I didn't think it would ever actually get done.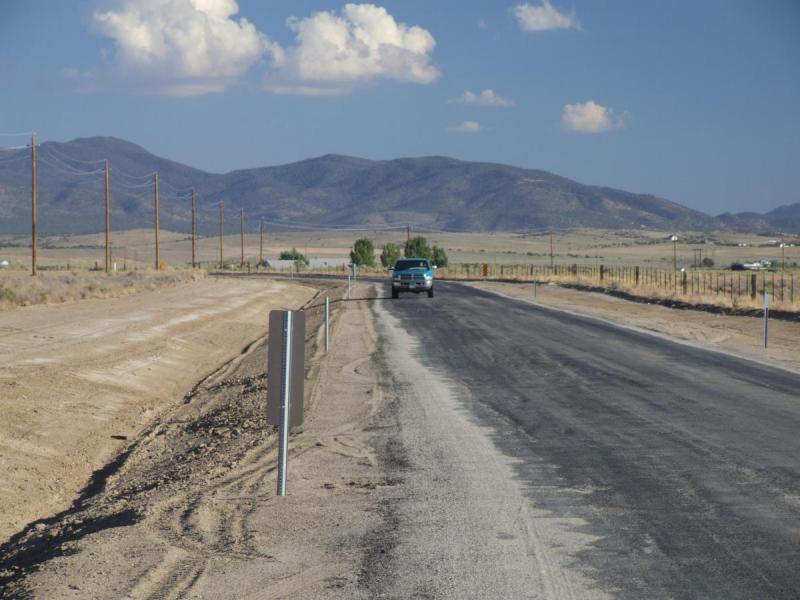 But last month it finally happened. That last part was graded down smooth and paved with grindings. Nice drainage ditches were even built to funnel water away during the wet months. I read the article about it earlier this week, when I got back from vacation, and today I had to make the drive out there to see it for myself. And I gotta tell you, it may be just grindings, but it's one of the nicest roads I've ever seen.
So now we finally have an alternate route to get to the south part of the Valley. I admit that it doesn't help people coming from Carson City, it mostly benefits Johnson Lane residents. But just to see this road paved all the way through is certainly a welcome sight to my eyes, as I'm sure it is to many other East Valley residents.