This Linehan Fire is still raging in the hills tonight outside Carson City. I've been watching it on and off throughout the day, and to my eyewitness eyes it looked like it had moved away from Mound House and was rampaging westward across McClellan Peak.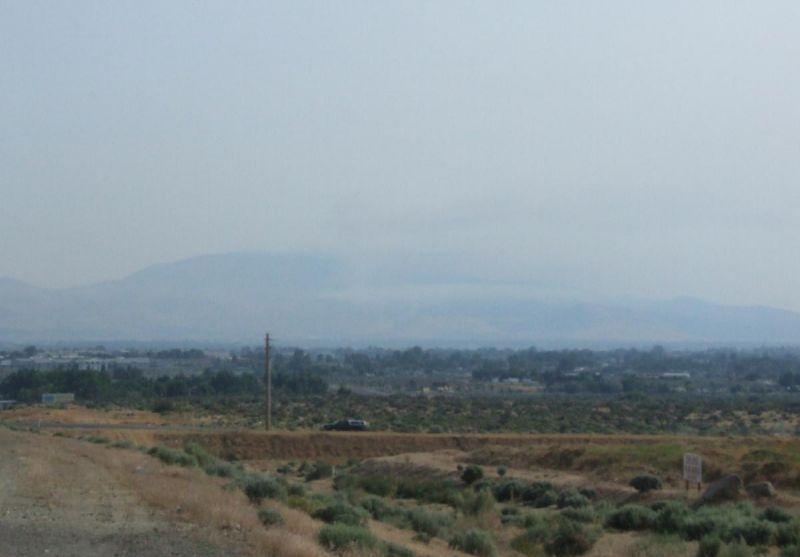 8:32 a.m.
But now the Nevada Appeal is reporting that there's a full firebreak in place along the western flank, so it's not going to advance any further in that direction. But it has turned back towards Mound House, burning through some brush that it thoughtfully left untouched during its first pass. So Mound House isn't off the hook yet, and neither is the Goni Road area. I'm sure there are crews positioned in both places to make sure it doesn't sweep through the houses on the edges of Goni and Mound House.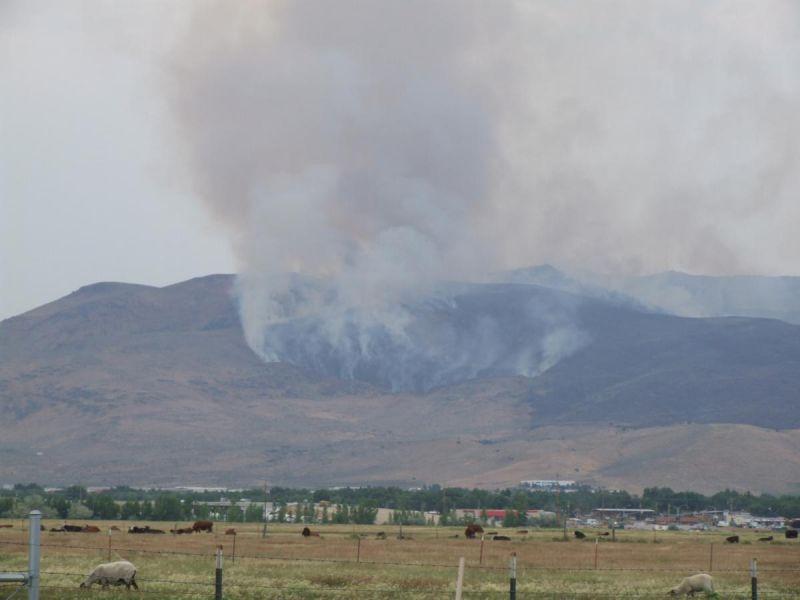 4:43 p.m.
When I finally left town to head home it had just gotten dark, and McClellan Peak was lit up with a long arc of orange flame. Fire always looks more menacing and dramatic at night. During the day all you can see are large clouds of smoke, and maybe a few glimpse of flame leaping up from time to time. But at night the entire hillside seems to come alive with an angry orange glow, and there's nothing you can do but watch it march across the landscape.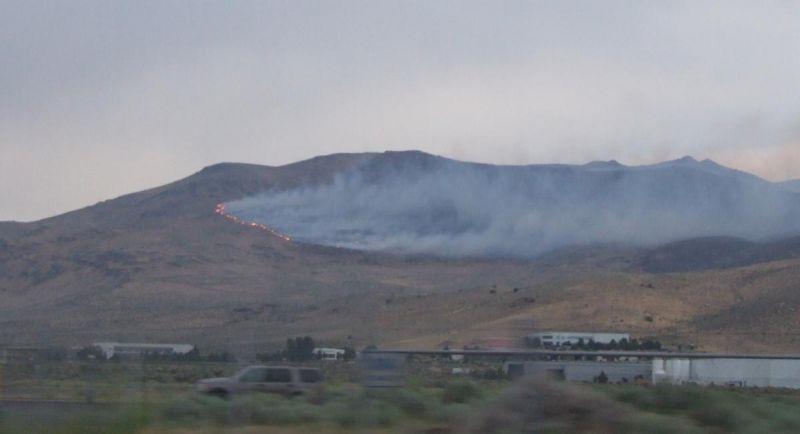 7:28 p.m.
This fire isn't as bad as the Waterfall Fire from a couple of years ago, and Carson City is fortunate in that. Over a dozen houses were lost in that fire, mostly because it was burning in the pine forests of the Carson Range, and therefore was hotter and more intense. This Linehan Fire is just a brush fire, so it's a little bit easier to keep under control, or at least keep away from houses. According to the Wildfire Risk Assessment put together by RCI (my day job) last year, the Goni Road area where this fire is burning was considered a low fuel hazard, with a fuel load estimated at only one ton per acre. Mound House has it worse, with fuel loads at six tons per acre, leading that area to be classified as an extreme fuel hazard. Most interesting is the passage marked "Fire Behavior Worst-Case Scenario", which was written over a year ago but could almost have come out of a newspaper report on the Linehan Fire:
The worst-case fire behavior scenario would likely occur on a high hazard summer day, in a year with normal to above normal precipitation and high cheatgrass production. An ignition west of the community would rapidly spread through the sagebrush and pinyon-juniper fuel if driven by west or southwest winds…Mound House has a high risk of fire ignition based on the history of summer afternoon lightning strikes.
I think there are enough crews out there to ensure that no structures in Mound House will be threatened, but a fire like this is always a good wake up call to remind everyone to make sure you keep defensible space around your house. Look through the RCI report to see if your neighborhood has specific recommendations, and study up at the Living With Fire website to make sure your house is prepared in case a fire comes through your neighborhood.
Smokey the Bear had it wrong; you can't do anything to prevent forest fires (or in this case sage and juniper fires, with a cheatgrass understory, caused by dry lightning strikes along the urban-wildland interface), but you can make sure it's easy for the firefighters to save your house. So get out that hoe, and get to work!