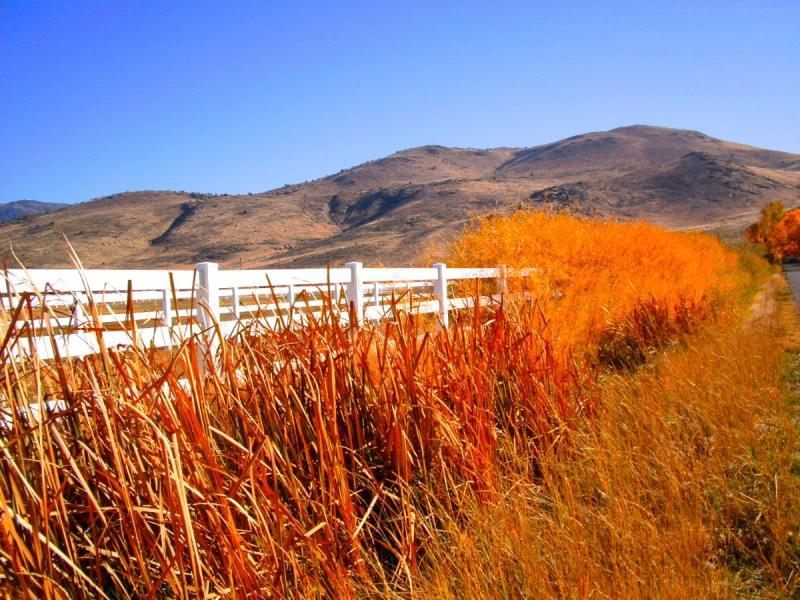 Hello to the readers of Around Carson! I could not resist sharing my thoughts of Carson City and the beauty that lies in the valleys from Reno through Gardnerville. I'm a transplant from the east coast. Having found this area on an exploratory venture six years ago. I have rated this area one of the most beautiful in the country after being in 49 states.
I have found though, in talking to many people, that the beauty is lost sometimes by the goal driven lives we live. So, I think it's time to remind everyone how our home sparkles with beauty all around. The title Photo proves this. I was told that Nevada is a bland collection of browns and grays with a splash of sage thrown in. Of course, on the east coast if someone is talking about Nevada, they are thinking of the glitter of the lights of Las Vegas. I did ! Having been to Nevada's playground, I had a focused view of what this state had to offer. Then I came to Carson City. I know now there are many playgrounds here in Nevada. Arriving here at night on Route 50, I was thrilled to see the city lights as I came over the hill. I stopped for a short rest and found the people I encountered to be very welcoming to me.I stayed for a while and eventually moved here.
I started exploring the area with my camera. Day after day I found so many interesting places. Intriguing my interest in history and finding so much beauty in the little things I used to walk or drive by every day. We glance at the decorations of local merchants, but have you stopped to look at the work put into them. We see the pretty flowers at intersections out of the corner of our eyes as we drive by. To take a walk down town or your neighborhood for no particular reason, you will see what is there and changing from season to season. I make it a point to get out at least once a month to photograph something beautiful here in Carson City and the valleys. I started this over six years ago by printing different picture on an envelope used to organize my home papers. It made me go out and look. Every time I think I found the best picture a better one is there on the next envelope.
The wonderful things and sites can be found in Cityscapes, Parks, simple walking trails, along the roadsides, in residential areas, ranches and rivers. Everyday is an adventure in some way. In these tough times we are all looking to save and still enjoy our lives. As autumn gives way to the cold winds and snow of winter another phase of the beauty of Carson City begins. The snow lights up the summits and slowly creeps down to the valley floor. Have you noticed how it shows the contours of the mountains. The creek beds, that bring the spring water to the rivers stand out as if drawn onto the side of the mountain.I am personally thilled when Springtime arrives and paints the hills a wonderful colection of green colors.
I suggest that we all take some time to collect the beauty that is ours. Here and when we travel. Stopping for a moment to look. The times are making us work harder and longer to keep what we have in our lives. No matter what happens we still have this area to rest our minds and leave our troubles behind if only for a few minutes.