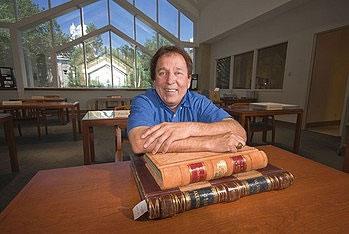 News Release: Guy Rocha to Bust Carson Valley Myths at the Dangberg Home Ranch Sat., July 18
Guy Rocha, former Nevada State Archivist and noted historian, will present "Carson Valley Myth-Busting" at the Dangberg Home Ranch Historic Park on Saturday, July 18. The public is invited to attend this free outdoor program, which begins at 11 a.m.
Rocha will set the record straight about 19th and 20th century Carson Valley historical myths, separating fact from fiction. He will address the long-standing, but untrue, belief that Dr. Eliza Cook was Nevada's first female physician, the conflicting claims on the inspiration for George Washington Gale Ferris' invention of the Ferris Wheel and the half-truths that have become entrenched in the public mind regarding film actress Mary Pickford's Nevada connections. He will explore these and other dubious claims related to local history and discuss how such untruths develop.
"People are obsessed with superlatives-they want the first, biggest, tallest, last," Rocha explained. "But they sometimes derive these superlatives from impressions, not research. Many of Carson Valley's myths, it seems, developed in part due to efforts to promote the area as the birthplace of Nevada, a place that is a little more special than the rest of the state."
Until his recent retirement, Rocha was Nevada's State Archivist for 28 years. A Nevada resident since the age of three, he is an avid historian, writing both books and articles on a wide range of topics. He produced four historical documentaries and has provided his expertise to both local and national television programs, both on-camera and off.
Dangberg Home Ranch Historic Park, located just west of Minden in Douglas County at 1450 Highway 88, features several historic buildings constructed between 1857 and 1920, including what was once one of the most prominent homes in Carson Valley. The site was settled in 1857 by Carson Valley pioneer Heinrich F. Dangberg, Sr.