The paint is hardly dry on the new Reno Aces baseball stadium, but the season has started and games are being held there regularly. Sunday was Little League Day, so Sam and his T-Ball team got to march around the field in a big parade before the first pitch was thrown. Then we sat down and watched the Aces try to keep their three-game winning streak alive with a fourth win over the Portland Beavers. They couldn't pull it off, losing 6-7. And then because the kids were restless and wouldn't keep their seats, we got to explore every inch of the new stadium.

Little League players clustered around the side entrance, waiting to enter the park and join the parade.

Jack didn't appreciate the locked gates.

The ballpark has a nice look; these neon signs are modern but they recall the ballparks of old.

Red and green are the dominant colors of the stadium building, with blue for all the seats.

Sam's Little League team, the Timber Rattlers, on the field.

The parade wrapped around the whole stadium, with teams from all over northern Nevada.

"Louie" and "Slugger" entertained between innings.

Jack watches the field intently.

The ballpark is built immediately adjacent to the Reno train trench, so several times during the game you'd hear the rumbling of a freight train as it passes by.

For kids who are bored of the game, there is a playground in the back.

The view from the grass, the cheap seats in the outfield.

A full house this Sunday afternoon.

At the 7th inning stretch this StayPuftian ghoul mounts the outfield fence for a rousing chorus of "Take Me Out to the Ball Game".

Final score, 6-7. A far cry from the 16-5 flogging Reno handed out the day before.
Although the cost of building this stadium, not to mention the prices of tickets and refreshments, seem like an unnecessary extravagance these days, I think it's still a positive addition to downtown Reno. Phase 2 of the development, which is still in the planning stages, will see a few restaurants and stores built on the front lawn of the ballpark, creating a "Freight House District", named for the historic warehouse next door. If this is all successful it could create another destination spot for Reno, something to do downtown besides the casinos and the river, downtown's only two big draws right now. As it was, after the game was over probably 80% of the crowd streamed over to the parking garage across the street and went home or went somewhere else for dinner. Having more to do right next to the ballpark would encourage people to stay a while; hopefully the plans can come together and the Freight House District will develop into a place people want to come to even when the baseball season is over.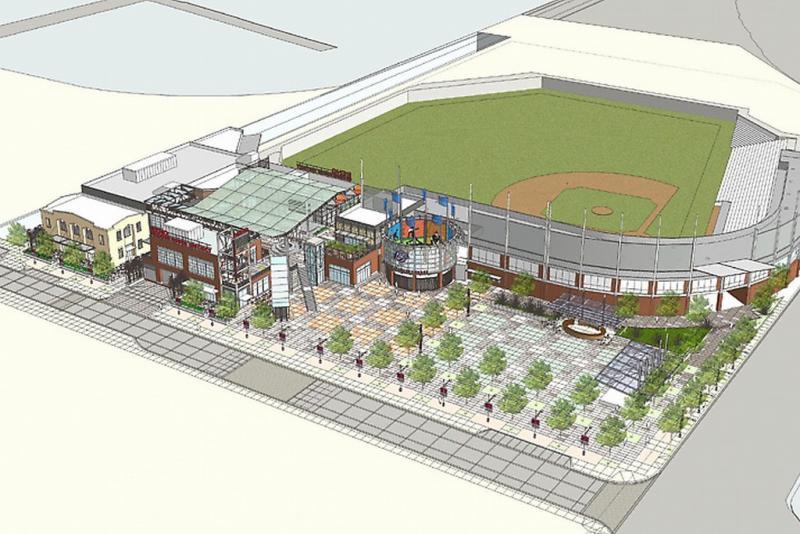 More pictures from the day are on Flickr.