Downtown Makeover has found a set of plans for the new shopping center that is slated to be built on the Park Lane Mall land in Reno. His site doesn't have any permalinks, so there's no way to link directly to the post where he talks about the plans. Go to www.downtownmakeover.com and look for a post from today, 3/21/09 – NEW PARK LANE PROMENADE PLANS. I've made a copy of the plans themselves here so you can see them.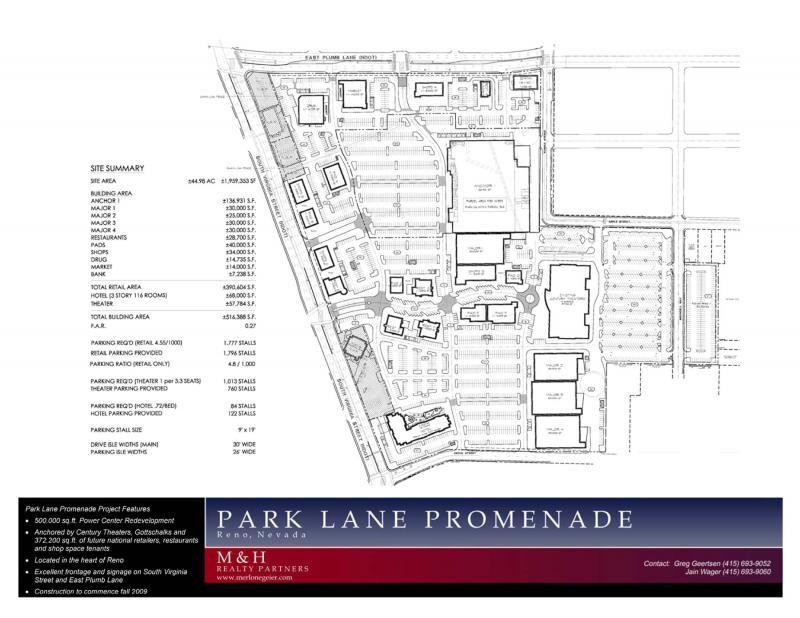 There's nothing hugely exciting about these plans. Just an ordinary outdoor mall, with a parking lot in the center and stores ringed around the outside edge. Very similar to the Sierra Summit, as a commenter pointed out. The only signature feature is the namesake "promenade" between Virginia Street and the Century movie theater, but even that is designed for cars and parking, not for people to get out and stroll on foot.
Indoor malls make so much sense here in Northern Nevada, where 10 months out of the year it's either too hot or too cold to be outside. So I don't know why the indoor malls are going away and outdoor malls are taking over.