I was driving along Nevada Street and I saw a backhoe and dumpster off in the distance. And just like some lawyers chase ambulances, my camera and I chase construction activity. We arrived on the site to find a half-demolished garage, on Nevada Street between Spear and Robinson.
At first I thought it was the building next door that was being prepped to be demolished. I was a little disappointed to see it was just a garage. But then I looked closely at the building itself. It seems to be empty and abandoned and a little run down. A perfect candidate for demolition.
But then I looked closer still, and I saw that's it's still hooked up to the overhead power lines, and doesn't have the "stripped" look you'd expect to see if it was coming down soon. So no luck, I guess. Maybe it's due to be remodeled, and removing the garage is part of the project.
We'll keep our eyes on it, though. Anything can happen!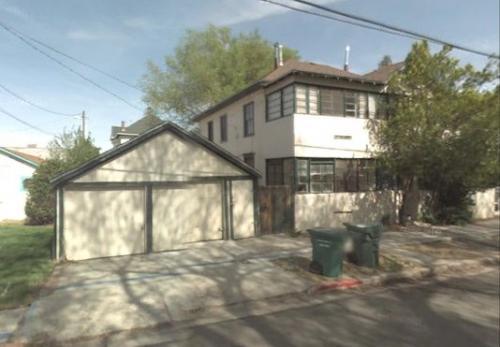 Google Street View