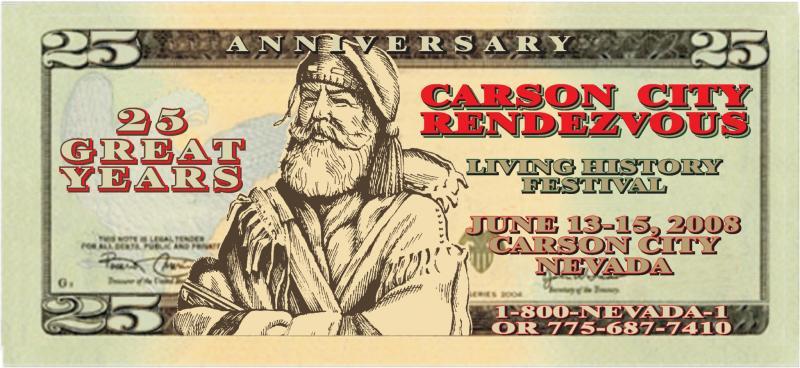 Also happening this weekend is the Carson City Rendezvous (or Kit Carson Rendezvous, as it used to be called). The main festivities are happening down at Mills Park, with arts, crafts, and a mountain man encampment. This is the 25th year for the Rendezvous. Here's a list of what will be at Mills Park this weekend:
Mountain Man Encampment – life in the early 1800's, including contests of skill, music of the era, and trade goods
Civil War Encampment – re-enactment of the earliest period of Nevada statehood, both Union and Southern camps
Pony Express – re-rides of the most famous cross-country mail route from the 1860's
Gunfighter Town & Stage – live action shows by teams of gunfighters representing the end of the 19th century
Main Stage – a full weekend of country and western music, dance, and comedy. Great Saturday line-up and FREE concerts. Main Stage Schedule in WORD or Adobe PDF. Note: Schedule is subject to change.
Don't take chances! Attend Cowboy Church on Sunday at 10 AM at the Main Stage. Preacher Paul Hirdler presiding.
Mountain Man Stage – traditional banjo, fiddle, and accordion music, so tap your feet and dance along Click HERE for details.
Native American Village – traditional dances and drumming, beadwork demonstration and instruction, arts and crafts Click HERE for details.
Pueblo de Nevada – traditional Hispanic dance and music
Camel Rides – travel the way John Huston did when filming "The Misfits" in nearby Virginia City
Stagecoach Rides – an Abbott-Downing replica pulled by a 4-up team of horses
Children's Area – Back-In-Time Kids perform for you, old time games and fun
Dutch Oven Cook-off – mouth watering food, cooked pioneer style
Kid's Stick Horse Rodeo Games – FREE to kids age 2 to 13 Click HERE for details.
Horseshoe Tournament – Rendezvous' First of this event. Click HERE for details.
Arts & Crafts – astonishing variety
Food Court – feast on a variety of foods, including Indian Tacos, barbeque, kettle korn, and more…
Nevada Appeal has a story in the Rendezvous too.