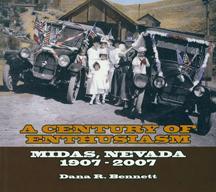 Summertime and reading go hand in hand but trashy beach novels and fictional thrillers are not the only summer literature that's hot. The Nevada State Museum will host a free summer book signing event showcasing authors with books about Nevada from 4:00 p.m. to 7:00 p.m. on Thursday, June 12, 2008.
The book signing will feature new releases including A Century of Enthusiasm by Dana Bennett; Radicalism in the Mountain West by David Berman, Dempsey in Nevada by Guy Clifton and A Legacy of Silver and Saddles by Paula Bear Wright.
Authors will be on hand to sell and sign their books and light refreshments will be served.
The Nevada State Museum Store is located inside the Nevada State Museum at 600 N. Carson Street in Carson City. The museum store is a one-stop shop for Nevada literature and unique Nevada themed gifts. The mission of the store is to provide an extensive collection of books about Nevada or by Nevada authors.
Due to construction visitors are asked to use the Robinson Street entrance on the south side of the museum.