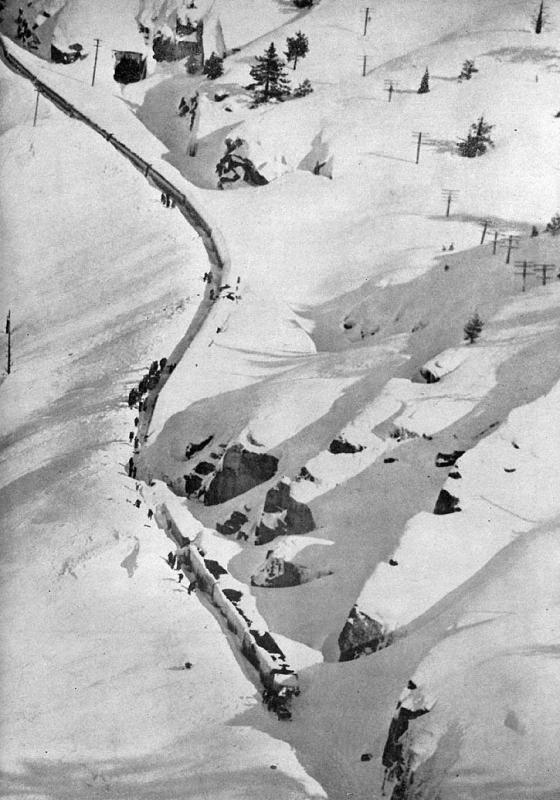 I found the story of the "City of San Francisco" train, which in 1952 got stranded in snow just west of Donner Summit with over 200 passengers onboard. It could have been the Donner Party Part 2. The train ran into a snowdrift on January 13th and came to a dead stop. The engineer was able to call for help, but by the time the big rotary snowplows had made their way up to the buried train, the wheels and brake lines had frozen. The train was going nowhere. So now it was a matter of clearing the tracks to bring in a rescue train, but in the middle of a fierce blizzard that proved nearly impossible to do. One of the first snowplows on the scene broke down right next to the trapped train. A couple others got stuck in snowdrifts themselves. Men with shovels tried to dig out all the stuck trains, but even after hours of shoveling in the blizzard they found the wheels were frozen and wouldn't budge. Nature was overwhelming every effort of man to get the passengers out of there.
It wasn't until the third day, January 16th, that any rescue was in sight. By then the engines had run out of water, which was needed to generate steam heat for the cabins, and they were pulling resources off of the other trains that were stuck in the area to keep people warm. A Coast Guard helicopter came into the area, but couldn't land. Rescue was coming from several directions, but none of it was quite able to reach the train.
When rescue finally came, it wasn't from the rails, it was from the road. The Highway Department had taken advantage of a break in the storm to plow nearby Highway 40 (now I-80) and were able to send a fleet of cars up to grab the passengers and bring them down the hill to warmth, safety, and a steak dinner. It took three more days to dig out the train itself, so frozen were the wheels to the track.
The next time you're stuck in chain controls for a hour or two on I-80, think of this story. Then go read the whole thing, from the January 1953 issue of Trains & Travel magazine.