I didn't see any kind of fanfare or announcement, but the Nevada Appeal has turned on the new commenting system on its website. I guess it happened today, because I'm sure I remember seeing the old-style comments were still there yesterday.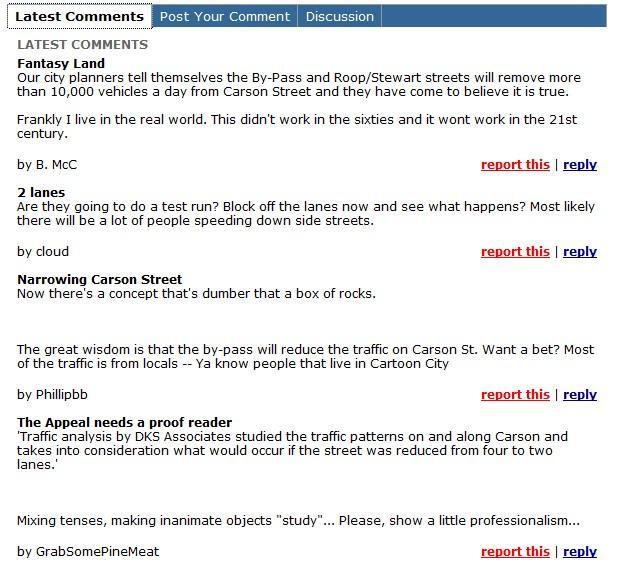 New comments
This is a good move, because up until now the comment system on the paper's website has been crap. This new system looks to have quite a few advantages. For one thing, you can now read the comments at the bottom of the article, instead of having to click to another page. For another, the stupid way that the system would truncate a long comment and make you click again to read it all has been done away with. And, the new system requires registration. Which is kind of a tricky subject. I allow anonymous comments on this site, because I want as few barriers as possible to conversation. There could well be someone who has something valuable to say in a comment, but they don't want to jump through all the registration hoops so they just walk away instead, leaving their thoughts unspoken. That's the danger of registration, that you're missing out on what they might have said. But on the Nevada Appeal's website, that concern is overshadowed by the fact that the article comments used to be a complete mudpit before, and anything that cleans that up is a good thing. Under the old system, effectively every comment was anonymous, which led to some of the nastiest stuff being written because there was no accountability. And even the valuable comments had no name on them, no way to track one commenter's opinion over time or identify who was saying what and responding to whom in a single thread. Registration fixes all those problems, so I think in the Appeal's case it's definitely called for.
Anyway, it's a small step, but put enough small steps together and you've got something pretty big. I can see the Appeal moving in the right direction, however slowly.