You have to have lived in the Carson Valley a long time ago to remember Miller's Market. At one time it was one of the only supermarkets in Gardnerville, before the Scolari's and Smiths moved in to join Raley's and make the south end of town so lopsided.
Miller's Market was located at 1505 Hwy 395, right about where the Record Courier building is now. It was run by Jimmie Miller, who took over operations in 1957 from his uncle Steve Imelli. I never went inside, but I can remember passing by on the way to to the old county pool, which used to be right across the street where an office building now sits. The pool closed in the late 80s, and Miller's Market followed a few years later.
I hadn't thought about Miller's Market for years, but this morning on a little walk around Gardnerville I found not just one but two reminders of it. First was this thermometer hanging on the porch of one of the historic homes on Eddy Street.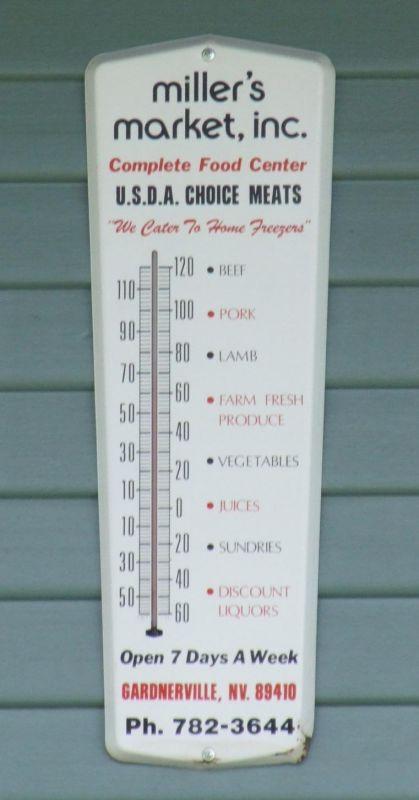 Looking closely at this thermometer, it seems they kept the beef at 120 degrees, the produce around 60, and the juice at a frosty 0. The discount liquors, of course, came in a solid brick that was chilled to 50 below.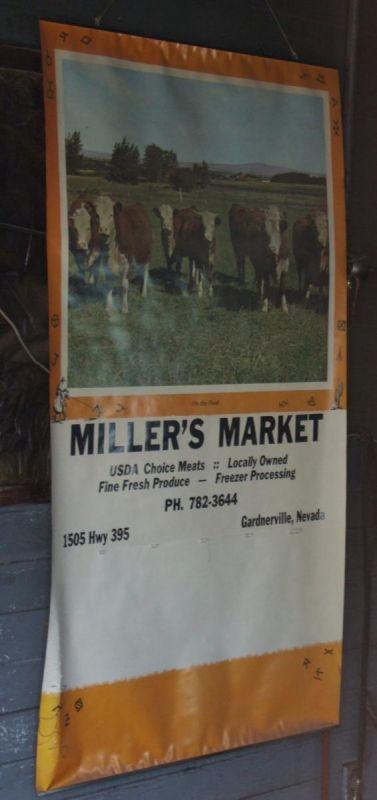 Peeking inside an empty building a couple of blocks away, I found this Miller's Market wall hanging. It looks like it used to be a calendar, but the calendar part fell off ages ago leaving just the painting of the cows. Having this still on the wall means this building must have been sitting there empty for fifteen years, at least. It's become its own little time capsule, just like the East Fork Hotel down the road which has a calendar on the wall permanently set to July 1981!
Anybody else think downtown Gardnerville is ready for some redevelopment?