We went for a bike ride on the V&T Bike Path yesterday, in west Carson City. We just bought new bikes a couple of weeks ago, and we're trying to get out and ride more, but with both of us working all the time it can be tough. But we have the little kid trailer and everything, so when we make it it's fun.
The V&T Bike Path is pretty new; it was re-graded and paved just not even five years ago. But its story goes back much further than that. The effort to get take a dirt path that ran through the area and improve it to make it bike-friendly had been in the works since the mid 90s. It is one component of a bike path that spans the entire west side, from the base of C Hill all the way north to the top of the hill at Lakeview. Much of the south side of the path follows existing streets. This section goes off on its own through the dirt and sagebrush.
But the history goes back even further than that. The reason it's called the V&T Bike Path is that it follows faithfully the old railbed that the Virginia and Truckee Railroad used to climb out of the Eagle Valley on its way to Reno. When you're cycling or walking along this path, you're following the ghosts of countless old steamers that traveled this route for nearly 80 years. The tracks were pulled up in 1950, and the route remained a dirt trail for another 50 years until it was paved in 2003.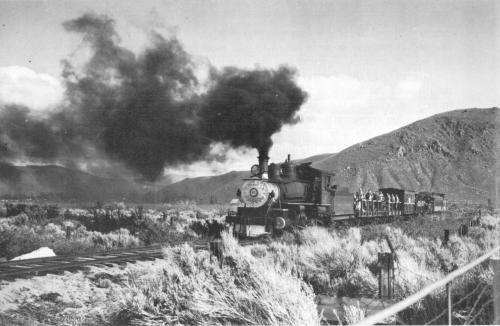 The V&T steaming up what is now Longview Way, near the south entrance to the bike path.
Below, a few more shots from the trail. These were all taken with my camera phone, which casts kind of a sickly pallor over everything.

The southern entrance to the bike path is at the corner of Wellington and Ash Canyon Roads. There is no parking at this end.

Someone built some sweet jumps along the way.

The trail crosses the Vicee Canyon drainage, where a lot of work has been done to try to keep the stream within its banks. This bubbling trickle of snowmelt is a nice break from the dirt and sagebrush.
The bike path stretches from Ash Canyon Road, at Wellington, to Murphy Drive behind Western Nevada College. You can see a map of the route here. There is also a post about it by real cyclists at Cycling Carson City.