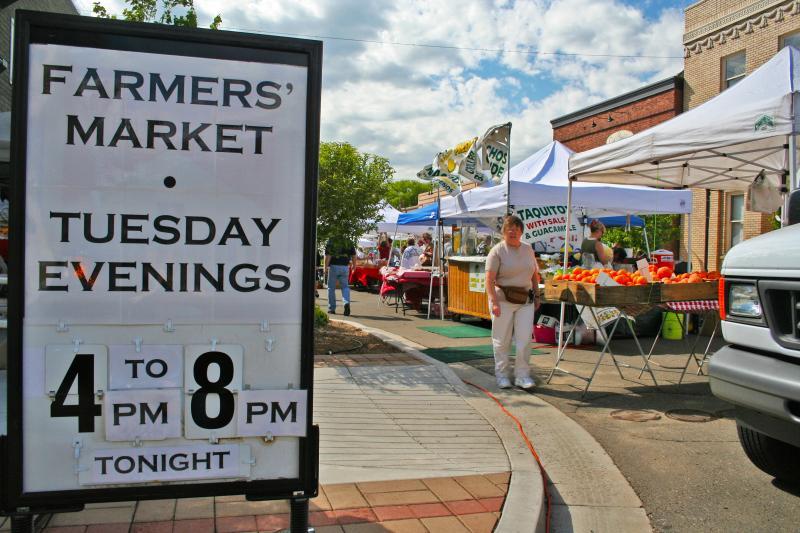 The Carson Valley farmer's markets are coming back this summer. Dates have been announced.
Minden Farmers Market opening day May 20

The Minden Farmers Market opens May 20 and will be open every Tuesday from 4-8 p.m. through summer on Esmeralda Avenue between Fourth and Fifth streets. Information, Roxanne Stangle, 782-2444.

Farmers Market at Lampe Park opens May 21

The Lampe Park Farmers Market offers an abundance of seriously fresh produce and a variety of food, farm, and dirt-oriented items. The market features flowers, perennial plants, fresh bakery items, outdoor d?cor and gifts. The farmers' market will be open 8 a.m. to 1 p.m. Wednesdays at Lampe Park in Gardnerville. Information at the Douglas County Recreation Division, 782-9828.
These two markets open two full weeks before the Carson City Farmers Market, which this year begins on June 4th.
With all the issues going on in the world with rising food prices and rising oil prices, the "local foods" movement is starting to gather a lot more steam and attention.There have been special articles about it in the Nevada Appeal and Record Courier lately, and even celebrity chefs are starting to speak out. And we're lucky because here in the Carson area we're firmly located in the breadbasket of Nevada. Most of the rest of the state is miles and miles of unforgiving desert, but here were have rivers that bring some life to the land, the Carson River, Walker River, and Truckee River. A lot of agriculture is focused around these rivers, in Fallon, in Fernley, in the Mason and Smith Valleys. In the Carson Valley much of the green land is given over to grazing cattle, but there are scattered plots that are dedicated to growing crops. And the best place to go to get all of this local produce is to the farmer's markets.
There is another option, though, if you're not in the mood to hunt through the market to find the best produce. It's called Community Supported Agriculture, and here in Northern Nevada we've had it for a couple of years at least. In essence, by signing up with a CSA you get a "subscription" to a produce delivery service. You pay one flat fee up front at the beginning of each season – spring, summer, and fall, and then each week a basket full of produce is delivered with your name on it. This produce is all grown on local farms, and the contents of the basket change throughout the year as different fruits and vegetables fall in and out of season. So in May you'd start getting a variety of spinach and lettuce, then in June peas and carrots start coming into season so those start showing up in your basket. And it continues all the way through December when you're getting potatoes and squash. And because it's all locally grown, your money is staying in Northern Nevada and helping out our farmers here.
The big CSA in our area is Great Basin Basket, which can be found at www.greatbasinbasket.com. There you can sign up for your shipments (the spring subscriptions are already sold out, so the earliest you can sign up for is Summer). I also found an article in the RGJ about Great Basin Basket, as well as the option to start a garden of your own. And, I just discovered a new-to-me blog, Local Food Northern Nevada, which is all about seeking out local food in our area. And of course they're subscribers to Great Basin Basket.
So if you're looking to have a summer full of real food, check out some of these options for eating food that's been grown in Nevada.